Team Spatula Jeepster & Commando Page
Welcome to my Jeepster & Commando page...this is just a rough start for now, but it'll grow...
Pretty much all my major modifications are done by the famous Mr. Toad. He does mechanical, suspension, and other custom fabrication. He's been patient enough to let me help out, and learn a lot in the process. Basic mechanical stuff I've done myself.

I have ToadBuilt stickers available - just ask

Click on any image to view the full-size picture.
This is the one that started it all - stock 1969 Jeepster Commando, 3 speed & 225 Dauntless V6. Bought 5/8 2002...Drove to the 2003 Jam as-is (as-was). Had already replaced the Rochester 2G carb with a rebuild, plus added Smittybilt rollbad, and 23-gallon Aero gas tank.
Here's the "after" picture - Summer of 2005, where I won the "Most Improved Jeepster" award at the Jam. Mods include ToadBuilt SOA lift, rebuilt front & rear D30 & flanged D44, CJ front discs, Advance Adapters Headers & dual exhaust.
Here's a shot at the Jam itself
---
This is the Before pic from November of 2004, when I bought this 1972 plain-Jane Commando off Ebay. Came with 3 speed and rusty/frozen straight 6.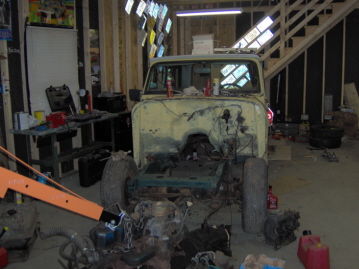 Here's a shot from the early spring of 2005, when I had removed the entire front clip, engine, and transmission, in preparation for the 304 V8 and TH400 infusion

Here it is now

flexing beside Ol' Blue at the Toad Works
Playing around

June 2006 at Uwharrie
---
I've got t-shirts!!!
Both Jeep and TeamSpatula related
(also got some VW designs on my VW page)
If you want to be featured here as well, please email me pictures of yourself wearing a TeamSpatula design shirt, and I'll be happy to feature you here, or on the main page also
Jerome sporting a V8 Commando shirt in Southern France
---
Caver Dave sporting a V8 Commando shirt in the Bahamas
---
2005 Jeep Commando shirts (also available without the V8 logo, for you 6 cylinder folks)
2003 Jeepster & Jeep Dauntless V6 shirts
NEW TeamSpatula.com Long Sleeve shirts are here!!!
2004 TeamSpatula.com shirts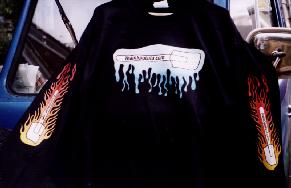 the original 2002 TeamSpatula long sleeve
2003 TeamSpatula shirts
---